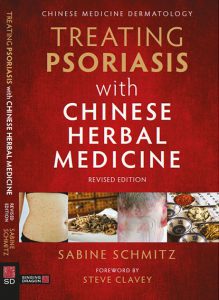 "Treating Psoriasis with Chinese Herbal Medicine: A Practical Handbook"
(revised version)
The first book in English solely focused on the treatment of psoriasis with Chinese herbal medicine. A hands-on guide, using illustrations, case histories, more than 120 excellent color photographs showing the diverse types and presentations of psoriasis, as well as a helpful tongue atlas, that can help TCM practitioners make precise diagnoses and immediately start treating patients suffering from psoriasis. Designed for TCM dermatologists, general TCM doctors, or anyone studying TCM.
It is the first 'Western' Chinese medicine publication dedicated specifically to psoriasis, and it takes a modern, practical approach to treatment, looking at the root cause of the condition from a Chinese medicine viewpoint, examining the most common Chinese medicine syndromes and formulas that have been proven to be most effective, and discussing the role of diet, environment and emotional health. In the book, I discuss both internal and external applications of Chinese herbal medicine.
The new, revised and updated edition is being published by Singing Dragon (London, UK) on the 21st of July 2020!
Paperback / softback book, 208 pages, ISBN: 9781787753495
Copyright © 2020 by Sabine Schmitz
This book is the first of a new TCM dermatology handbook series that I am working on with Singing Dragon, with practical books about the most common skin diseases. We're creating the ultimate resources for practitioners to use in clinical practice – easy to read, use and navigate in day-to-day practice, and based on my experience of over a decade in treating skin conditions with Chinese medicine.
---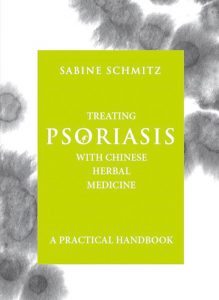 "Treating Psoriasis with Chinese Herbal Medicine: A Practical Handbook"
1st edition: 31st of July 2018
– OUT OF PRINT –
Chinamed Publishing
A5 paperback book, 196 pages, ISBN: 978-3-00-060315-0
Copyright © 2018 by Sabine Schmitz
---